What is Teikametrics & What Can it Do For You?
Teikametrics is an all-in-one Amazon software suite that offers the following features:
A full FBA overview dashboard providing detailed breakdowns of your sales volume, ACoS, total profits and more
Opportunities forecasting and tracking functionality
Profit analysis tools to analyse all of your costs, see what your actual margin is, and set maximum bids to advertise given products accordingly
A refund recovery section to ensure you get what you're owed
PPC management/Sponsored Productsand Sponsored Brands optimization
Customised reporting based on your specific targets
Analysis of organic sales vs PPC sales, with insights on what's worth bidding for and what isn't
Teikametrics walks the line between automated software and managed services.
While all of the above functionality is possible via software alone, some sellers may find setup and maintenance easier by working directly with Teikametrics' analysts.
This does increase the price compared to tools that are software-only, but we have to say their team is extremely skilled and dedicated, to the point that if you want a little extra help than other tools give you, it will likely be worth the extra price for you to go with Teikametrics.
It's also worth mentioning that they have recently hired an Amazon veteran who played a major part of building Amazon's Sponsored Products program, to help build their algorithm and bring in more accurate data from Amazon.
There's quite a lot going on here then, but how do the individual features compare to the competition?
Let's take a look:
Teikametrics Features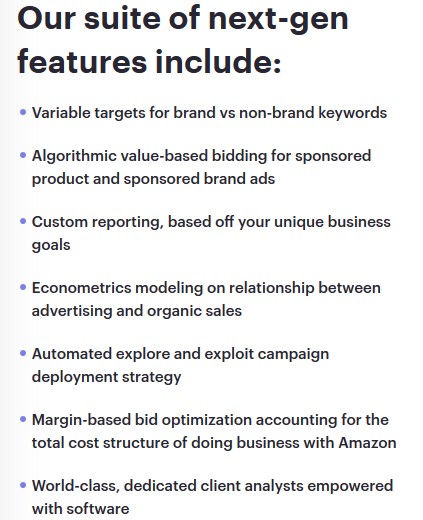 Teikametrics PPC Optimization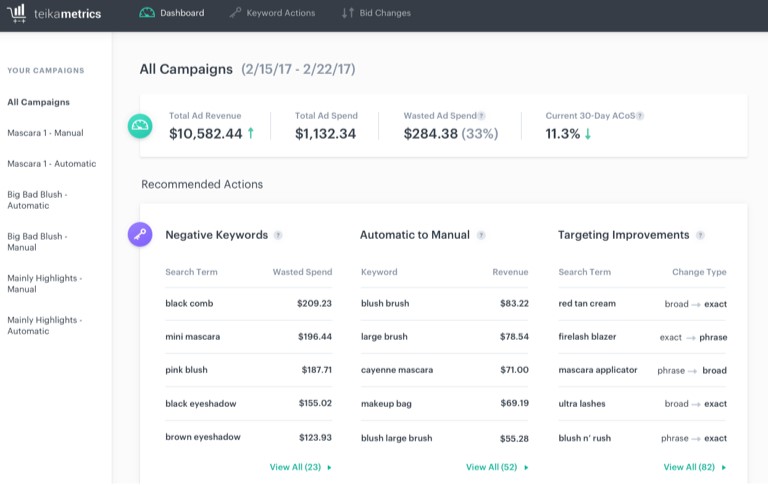 As we're sure you've guessed already, this tool is all about optimizing your Sponsored Products and Sponsored Brands campaigns and ensuring you aren't wasting any money.
Here are just a few of the things you can do with the PPC dashboard:
Find profitable keyword ideas that you haven't targeted yet
Learn which keywords are wasting your money and worth removing
Automate your bid setting for maximised performance without waste
Get expert help with creating targeted advertising campaigns to suit your goals
The first three can of course be done within the tool alone, whereas the last bullet point is only available via working directly with Teikametrics' team.
The automated bid setting is a godsend for Amazon sellers, allowing you to sit back and focus on growing your business instead of constantly needing to log into Sponsored Products to see how things are doing.
The dashboard is laid out very well too and a pleasure to use, which is always a strong point when you're choosing a tool to deal with over the long term.
Teikametrics Flywheel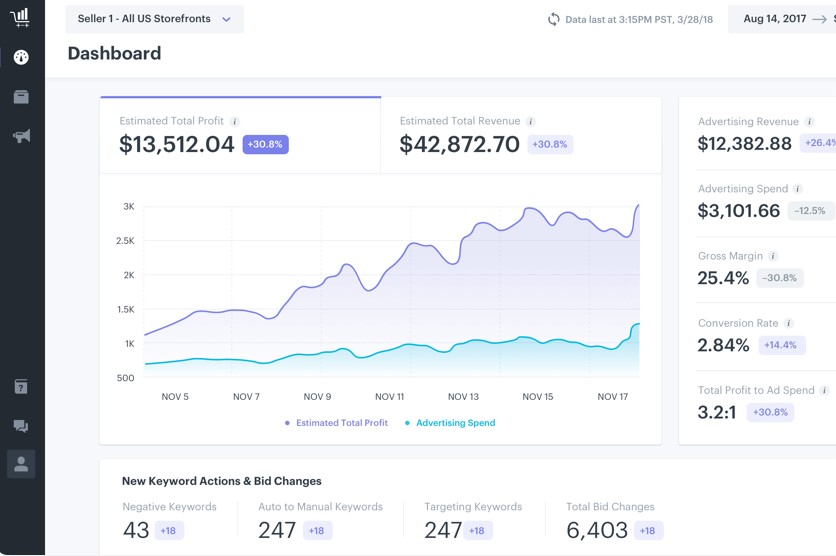 Flywheel is Teikametrics' overarching product and provides insights focusing on, for example, product launches and increasing the profitability of products.
You can analyze your advertising spend, along with organic- and ad-derived sales data in order to improve both your organic sales and PPC strategy.
You can also filter or sort opportunities by product type, SKU, etc, and track progress month by month, which makes it simple to mitigate risks while also finding valuable opportunities.
Similarly to the PPC section featured above, the focus here is on removing waste and making your Amazon strategy as efficient as possible.
Flywheel's algorithm uses machine learning to analyze all of your data and provide recommendations on how best to maximize sales while reducing spend.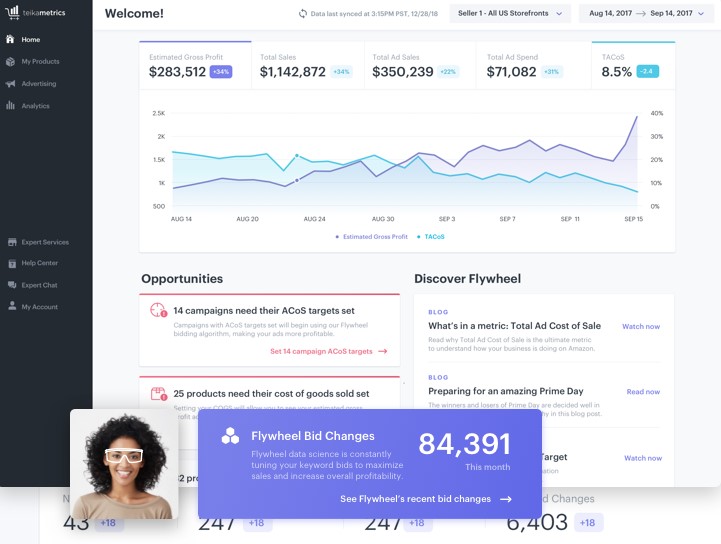 Teikametrics Reporting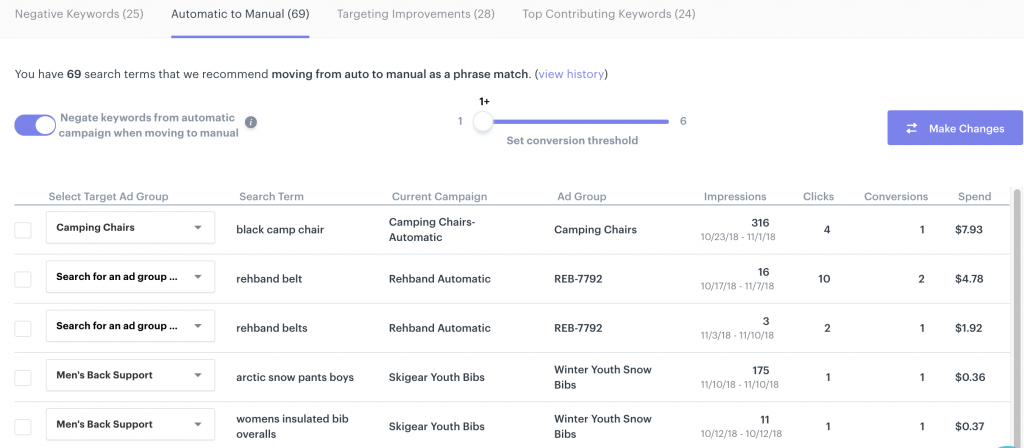 Teikametrics allows you to get customized reports based on your own specific goals, making it easy to track your progress or areas that need work.
Reports can be raised on:
Settlement reports that are completely segmentable and show you which products and subcategories have led to which profits
This is one of the most impressive parts of Teikametrics for us, and you are extremely free to play around with the reporting and make sure you get the exact data you need in a layout that's easy to work with.
Teikametrics Partnerships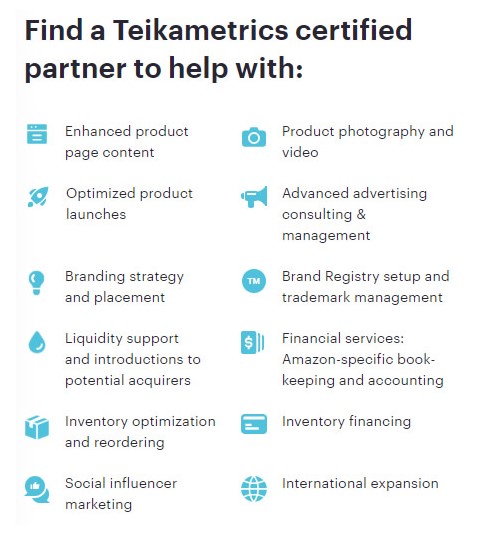 Everything we have mentioned so far can be done alone via Teikametrics software solutions.
However, they do also have an in-house team of PPC experts to help advise you on using the tool, and even an outsourced community of partners to provide other services.
For example, you can request a "Teikametrics Expert Campaign Launch", which allows them to build you custom product campaigns and help you manage your business via the software according to best practices.
Teikametrics Pricing
The Teikametrics cost varies quite a lot depending on the size of your business and which services you want, but it's quite a bit more than any of the other tools we've reviewed.
We have to agree with some of the other Teikametrics reviews who have said that despite the lofty price, the quality and breadth of this tool make it absolutely worthwhile.
This is not for small-time sellers who will struggle to manage the price (those people have plenty of other options such as Sellics or Helium10).
However, for larger sellers who are turning over large volumes, very few tools are as optimized as well or as user-friendly, and so we would recommend taking the plunge.
With that said, even smaller businesses could mitigate some of the cost by only using the Teikametrics tools you really need, and getting some cheaper standalone tools such as KeyworX to handle everything else.
They do provide custom quotes depending on the size of your business, so don't take these figures as gospel until you discuss your requirements with them, but we have detailed the prices we've seen regardless, in order to give you a ballpark idea of what Teikametrics costs.
These prices are for the software package alone, and vary depending on how much you currently spend on ads per month:

If you go for the software package and the managed services, prices start from $1,800 per month: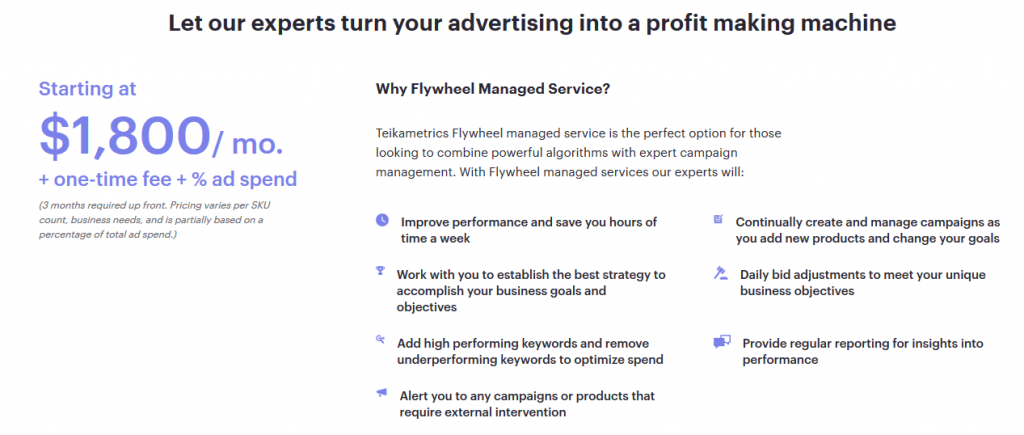 Be aware these prices are based on sales volume and can go up to $2,499 if you handle a huge amount of products.
This tool may be overpriced and unnecessary for smaller Amazon sellers, but is arguably the best option on the market for larger ones.
The quality of the tools and the boosts in profits it can achieve for you will more than overcome the cost.
Which marketplaces does Flywheel work with?
You can use the Flywheel software to help your operations in the following countries/Amazon marketplaces:
They also state that they are working on more marketplaces, but no news on which ones are next as of yet.
How often do metrics update?
Most metrics are updated on a daily basis with a 3-day buffer, but bid changes update hourly and new keyword recommendations are updated once a week.
Are there contracts?
Nope – you can cancel at any time. In fact, some people sign up for Teikametrics for 1-3 months to handle a major product launch, and then leave again.
What about data privacy? Can I trust Teikametrics?
Teikametrics works with Amazon Cloud Services and is a member of the Amazon Marketplace Developer Council. You can read their privacy policy here.
How is the support and educational content?
Customer service is top-notch and quick to respond, and there are tons of decent how-to articles and explainer videos.
If you're struggling to use a certain aspect of Teikametrics, the solution is never far away.
Final Breakdown
Positives:
Accurate data and smart tracking
An excellent custom reporting feature that's powerful and easy to use
An extremely elegant solution, especially for larger Amazon businesses
User-friendly layout and great support make it easy to use
Negatives:
Could be prohibitively expensive for smaller Amazon sellers
Conclusion:
Teikametrics provides a powerful, easy-to-use, and accurate solution for larger Amazon businesses and is guaranteed to make your business more profitable by optimizing your Amazon-sponsored product bids, cutting wasteful ads from your PPC campaigns, and helping you to find valuable new opportunities.
The human touch may also be a major selling point for some, as having somebody at the end of a live chat, email or phone call whenever you need advice or tips on how to use a certain function may be handy.
Despite being one of the best Amazon seller tools bar none, it is also one of the most expensive, something that will automatically disqualify it for many smaller sellers or sole traders who are working to a tight budget.
Luckily for those people, there are many options of varying cost and quality, and we've reviewed the bulk of them, so feel free to browse our blog if you're interested in cheaper options.
If you sell enough products to handle the cost, though, Teikametrics is a brilliant way to boost profits, efficiency, and a virtually guaranteed way to take your business to the next level.
Let us put this more simply – if you sell on Amazon and can afford this, you need it.
The inflated price may lose it a couple of points in our final score, but that's only because we know how tight things are for some sellers.
The ability to mix some Teikametrics tools with some tools from elsewhere to save money make it still worth considering for those with less expendable budget, and don't forget you could always just sign up for 1-3 months to handle a specific product launch, and then cancel once things are running well and you no longer need it as much.
The investment would be more than worth it for access to one of the highest-quality Amazon tools, period.
The AmazonSEOConsultant Verdict: 9/10